SKILLS FOR A LIFETIME OF SAFE DRIVING
DRIVER EDUCATION PROGRAMS
Important Scheduling Notice
Due to extremely high volume, we are currently scheduling lessons as follows:
Beaverton - Registration for driving lessons is temporarily closed. Check back often. We will open some lessons each week.
Gresham - Due to the high volume, we are scheduling about 11 weeks out.
ODOT Teen Class Update
Thank you for your interest in driver training with Pacific Driver Education. We are proud to continue offering services even during the ongoing pandemic. As a company, we chose to halt in-person classroom instruction and limit how many students are allowed in a vehicle at a time. Our safety protocols have kept our clients and instructors safe for over a year. Unfortunately, these precautions do not allow us to conduct an in-classroom ODOT course at this time.
We have an excellent alternative course called Intro to Driving which will change your student's experience slightly. The chart below outlines the differences and advantages of each program. If you prefer an ODOT course, we hope to offer that again later this year, our goal is to have a class in Gresham and Beaverton in the Fall.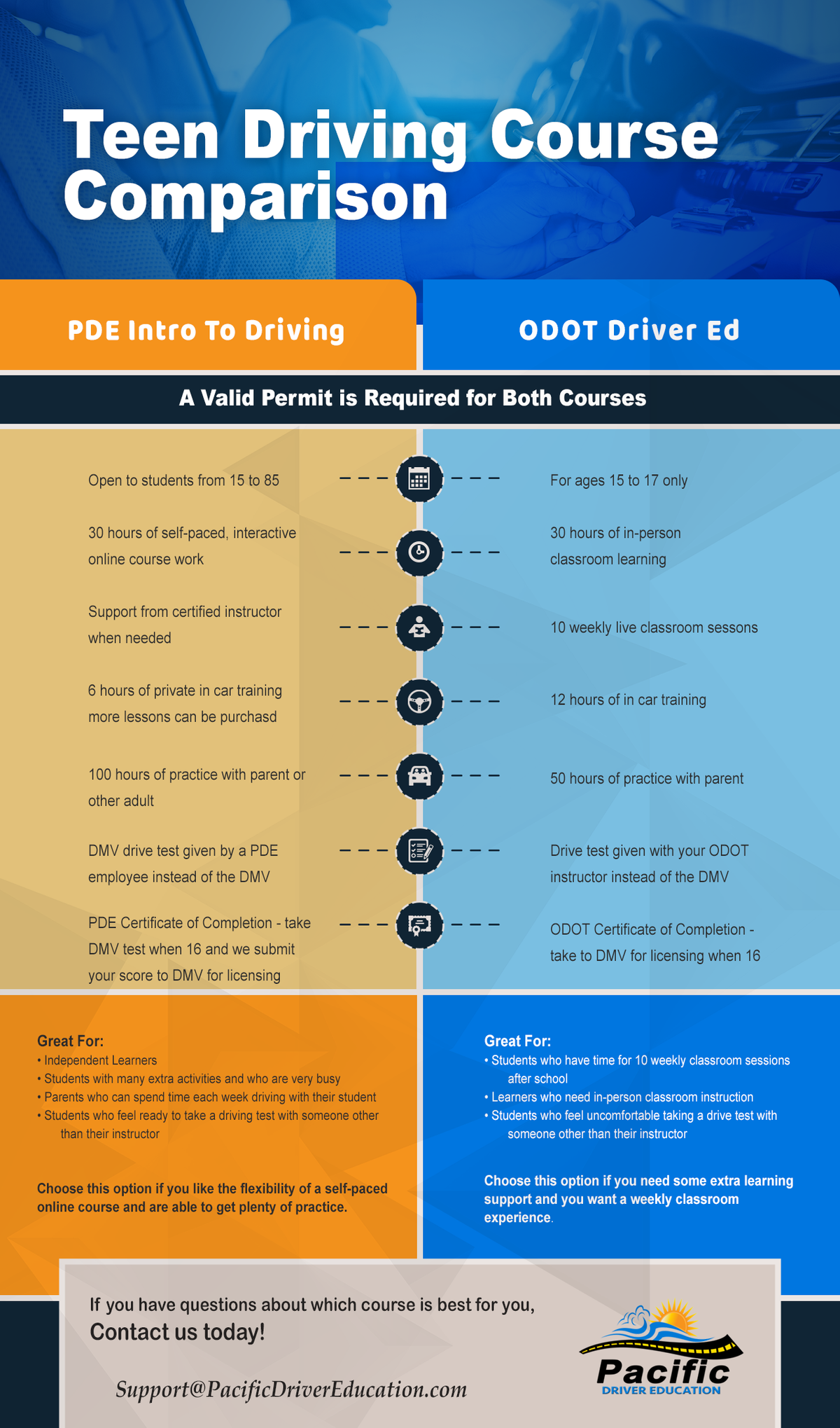 Teen Driver Education
No two teens are alike!
Most teens want to learn to drive but like everyone, they have different needs. When it comes to driving instruction, they need options. It's important to families and driving schools to teach at times and in ways that meet those needs.
Some things to consider when choosing a driving program for your teenager:
Your student's learning style
School schedule
Extracurricular clubs
Sports schedules
Religious obligations
Family schedules
Part-time job
The Traditional Approach
30 hours of required classroom seat time
Weekly driver education classroom time for 8 to 10 weeks
Six two-hour driving lessons with two student drive partners
Makeup time required if you fall below 30 hours
Both students must attend lessons, or they have to be rescheduled
A Self-Directed Approach to Driver Training
You can begin your course as soon as tomorrow - you are a class of one very important student
30 hours of classroom work, delivered as an online, interactive course
Students can complete the online lessons at their own pace
Driving lessons are solo drives with an instructor
We set up lessons that fit your student's schedule
We have installed a two-way dash cam in each vehicle that is always in operation during drives for safety
A parent is always welcome to ride along during driving lessons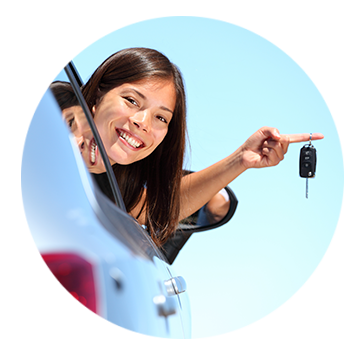 Choose the course and sign up today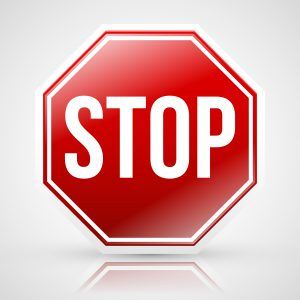 If you are 18 or older, we have an Intro to Driving course for you, too!